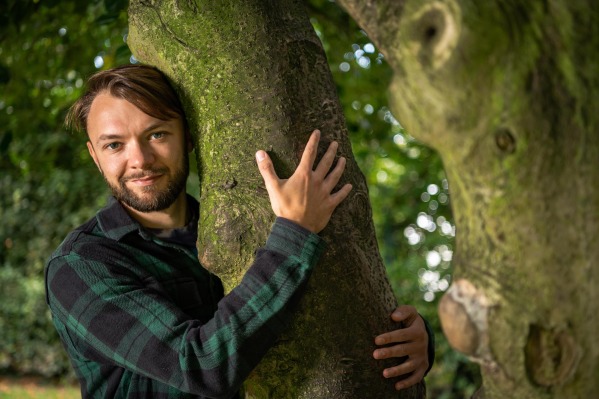 "With the new Environmental Act passing through parliament recently there's biodiversity net gain to consider and we're helping our clients understand what that looks like. It's always so rewarding working on these types of projects as it's not a case of clearing a site and doing the bare minimum."
Tell us a little bit about you and your job
I have always been interested in nature which is why I was drawn to a nature-based career. I studied zoology at Bangor University and while there I worked as a labourer in construction which gave me great insight into that side of ecology. Even back then I was always trying to strike the balance between nature and construction. The main construction projects I worked on were barn restorations and developments in rural areas, so the footprint tended to be within the barn rather than damaging any nearby habitats.

I took a year out after my undergrad degree and worked in security before coming to Newcastle to study my Ecological Consultation Masters at Newcastle University. It was during my Masters that I became an ecology freelancer to build up my experience.
This put me in good stead when I applied at Biodiverse Consulting as an assistant ecologist over two years ago.
What attributes do you think you need to be successful in this industry?
Passion for nature is very important - especially at Biodiverse Consulting. We are all very passionate about our planet but are also excellent problem solvers and thrive on complex projects.
Do any projects stand out as highlights?
A lot of the work we do isn't straightforward and we have to think creatively to achieve results for clients while sustaining natural habitats as much as possible.
We tend to get a lot of projects where land that has previously been developed for industrial purposes has been earmarked for residential development. This brings a lot of complications as often nature has taken back the land and the habitats that are now there are thriving but we need to be able to create enough homes to make the space viable for the client.
These types of projects involve a lot of mitigation for the likes of butterflies, birds and other protected species. And we then have to draw up plans for habitat creation to offset any damage to what's already there.
With the new Environmental Act passing through parliament recently there's also biodiversity net gain to consider and a big part of our job is helping our clients understand what that looks like too. However, it's always so rewarding working on these types of projects as it's not a case of clearing a site and doing the bare minimum.
What does a typical day look like for you?
There is no typical day working here, that's why I love it so much. We have such a range of projects and different times of the year bring different things. Some days could be spent in the field or we might have days in the office writing and reviewing reports and having meetings with clients.
Training and development is also very important to Vicki so we are often training at work.
I am currently working toward a great crested newt licence so have been shadowing experienced ecologists, going away on training courses, and working with the likes of Froglife charity.
What is the best part about working at Biodiverse Consulting?
For me, the best part is the variety of the projects we do. No day is the same - everyday we are working on a different project and experiencing a different part of ecology. I am never stuck doing the same task for weeks at a time, which suits my working style. It's also really good for developing your skills and figuring out what you want to specialise in.
The team is also very close and we love to socialise (restrictions permitting). Once a month we try and do a social exercise involving training, like an organised walk, where we teach each other our specialities such as naming birds or plants, or we will volunteer on ecological charity projects.
If you had to sum Biodiverse Consulting up in three words what would they be?
Friendly, professional, teamwork.